Plant Nation 2019

Hugo Moline and Heidi Axelsen

Biodegradable plastic, plant seeds, felt, timber dowel, galvanised fitttings.

Brisbane City Botanic Gardens.

Flags mark territory. The border, the nation state, land, real estate.

Plants consider territory in a fundamentally different way. Plants claim land with their bodies, their occupations are not reliant on fences, on guards, on checkpoints. The borders of the plant nation are in constant motion.

The plant nation is a commonwealth, a federation, an empire made of many nations, yet unlike our human nations its various nationalities, its species-beings, do not require exclusive control of land and territory. Rather the nations overlap, and are interwoven.

The plant nation is a self governing collective. Its laws too are inseparable from the bodies of its citizens.

The plant body then becomes the only marker of territory. The citizen is the border. The nation is composed not of territory but of inhabitation.

The plant nation has alway existed. We have built our nations upon its territory. It continues to exist. It outlasts and outlive human nations, human empires. The plant nation will outlive us as well.

Like a rhizome, a sleeping tuber, the plant nation continues underground. It is a quiet nation, it makes no threats. Its diplomacy is gentle but ruthless. Slowly but steadily creeping up through the cracks.

The flag is a human marker of territory, of nationhood, of the authority of a particular state and its specific set of laws. What would the flag of the plant nation signify, how would it operate?

The work Plant Nation plays with ideas and artefacts of nationhood. It builds a future-ruin on which to hoist the flags of the Plant Nation. Unlike human flags the flag of the plant nation is fragile and impermanent, made of biodegradable plastic. Yet it contains within its fabric the seeds of its expansion. The flag is the nation is the citizens. All will rot and grow together.

Curiously the flags can only have been made by human hands, but who are these people who work for the glory of a non-human empire? Who serve a nation of others? It is a strange notion, yet considering our utter dependence on the plant world for our survival, perhaps not so strange after all.

Through taking seriously the playful idea of a plant nation state, the work invites us to reconsider our relationship not only between humans and plants, but also between humans and the forms in which we organise and regulate our collective identities.

Link.
https://www.brisbane.qld.gov.au/things-to-do-brisbane/council-venues/parks/city-botanic-gardens/botanica/botanica-artworks-artists




Open Field Agency 2019

Who decides how public space is made? Who is 'the public' it is made for? Could the many different publics who are connected to a place come together and share in its making?
This project aims to bring together the voices of local residents, community organisations, traditional owners, businesses, property developers, land owners, local government, planners, architects and artists to help shape a new public space. A public space which we hope will be useful, beautiful and unique.
We are working with the City of Sydney through it's public art program,
City Art
, to develop a conceptual framework for the public areas of the Danks Street South Precinct in Waterloo, Sydney.
This innovative approach initiated by City Art, invites socially engaged artists, working in conversation with the community, into the early stages of the public domain planning and design process. Working in this way, as part of a collaborative planning and design team, seeks to ensure the public domain incorporates not only the artistic vision of public artists but also the needs and desires of the community.
The Danks Street South precinct is an area of Waterloo bordered by Danks, Young, McEvoy and Bourke Streets. The site is most easily identified by the large concrete open field surrounding the Sydney Water Pumping Station and Valve House still in operation in the south-eastern corner of the precinct. In addition to this many existing commercial and industrial buildings are still in use at the precinct's northern end.
Like a lot of places in the area, this place about to change. A lot of new buildings will be built, mostly this will be private space, places where people will live or work: houses, shops and offices. But for the first time in generations, part of this site will be open to everyone. A place that is not for sale or for rent. A place anyone can go. A public place.
What have we done so far?
As the first step in creating a vision for the public spaces of this site, we spoke with the community surrounding the Danks Street South Precinct so that local peoples' stories, values and ideas could help shape the future public spaces to be developed.
We conducted an open research week based at Artbank on Young street in Waterloo. We met with 64 individuals by appointment and drop in. The majority of these meetings took place at Artbank or on the footpath by the site, with the remainder at Ron Williams Centre, NCIE, Redfern Community Centre, Yui Ming Temple and cafes in Redfern to Zetland.
The people we spoke to were generous with their memories, insights, ideas and recommendations for the site. We were given a wealth of ideas, reflections and suggestions. As clear as the diversity of desires and perspectives was the fact that we had barely scratched the surface.
As such we believe it would be a huge mistake to simply take what we have found and attempt to turn it into some kind of frozen-in-time representation of this place and its people.
So rather than presenting a catalogue of desires from which we pick and choose we present our findings as a set of fundamental desires, those which cut across the conflicts and locate a common base from which to build a set of concepts. We take these not as 'options' but as mandatory guiding principles, and measures against the concepts and eventual physical results will be judged.
This film by
Nathaniel Kelly
captures snippets of conversations we had with people who live, work, love and know this place.
Our report builds on these encounters to develop the fundamental principles of 'openness' that must be preserved in the development and eventual occupation of this important area in genuine partnership between local people, community groups, developers, land owners and council.
Have a look at the report
here:
What is next?
Site investigations.
On the 18th and 19th of October 2019 we are offering some free public tours of the site together with Sydney Water.
For more information and to book
click here.
To download the terms and conditions of the tour and the waiver form
click here.
In 2020 we will be working with a Landscape Architect to develop a Concept Design of the public domain. We propose that this initial research be the basis for formulating an ongoing strategy for the development in this place. Our involvement is to help bring the communities' aspirations into the process for the future public space, so we are guided by what we learned during this initial phase and remain open to further conversations and input.
Get involved
Please get in
contact with us
if you are interested in getting involved.
Thank you
We would like to extend our deep thanks to all the individuals who took the time to meet with us and share their knowledge, stories, ideas and understanding of this place and for whom it is special and important place.
We would also like to thank the following organisations who helped us to make connections with these people.
Artbank
Counterpoint Connect
Friendship Bridge
Future Method
Kepos St Community Centre
NCIE
Redfern Community Centre
We Live Here
WEAVE
Wyanga Elders
Yui Ming Temple
We acknowledge the Gadigal people of the Eora nation as the traditional owner of the land and that sovereignty was never ceded. We pay our respects to their elders past and present, as well as to those of other indigenous nations who continue to live in and look after this place.
The Visitors, An Exercise in Plant Agency 2017

Hugo Moline and Heidi Axelsen

Cypress & gum trees, biodegradable plastic, soil, plant seeds, steel, leather, construction scrim, video.

MAMA Albury and Blue Mountains City Art Gallery.

What if we acted altruistically for the benefits of the plant world? What would our world look like? This exhibition explores what can of devices humans would need and how humans may behave differently if they were to become plant agents.

Plants mostly seem to recede into the background, the base and stage for the lives of faster moving creatures like us. Yet we depend entirely and absolutely on the lives and labours of the plant world. We are here because they are here. If we are their guests, we are rather inconsiderate ones. We farm them, we garden them, we prune and transplant them. We harvest them and process them. We eat them and wear them. We use their bodies to house ourselves. Like unwanted visitors we depend much on our hosts to support our endeavours and we take much more than we return.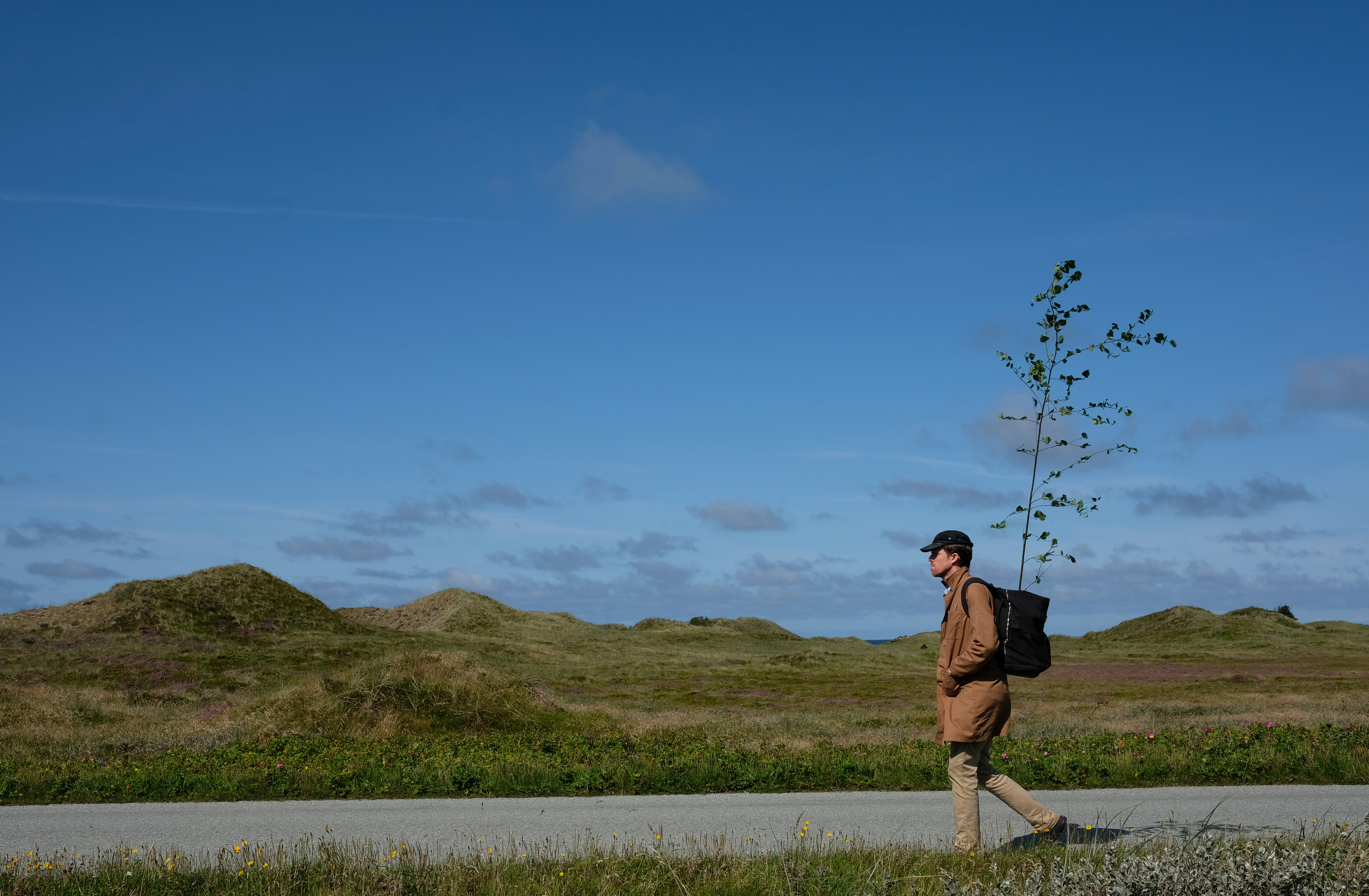 We must learn not just how to collaborate but how to conspire with plants…we need to tap onto their desire for forms of life that are not for us. We must reconstitute what Anna Tsing (2015) might call a planet fit for "collaborative survival". If not, their undoing will truly be our undoing.

Natasha Meyers (2017) 'Photosynthetic Mattering: Rooting into the Planthroposcene' in Moving Plants, edited by Line Marie Thorsen, Rønnebæksholm Press: 123-129.

Link.
https://mamalbury.com.au/see-and-do/exhibitions/heidi-axelsen-and-hugo-moline-the-visitors




Lightscoop House 2017


Reworking the rear of a century-old cottage in the upper Blue Mountains to bring in the sun and watch the seasons change.

The design approach was formed between two desires, respecting the existing house and getting real sun into the house during harsh Katoomba winter. The addition sits behind the existing house, pulled back enough to introduce a high north facing window to pull in the light and sunshine to passively warm the house. The addition is a bit like a little sister to the old house, peeking over her shoulder.

The exterior is clad in rescued golden cypress timber and the interior with plywood. The custom double glazed windows are made from recycled hardwood and open the house up to the beautiful garden.

The bathroom has the feel of a tiny japanese sento with a sunken bath. The wall opens up to the garden so you can have a hot bath in the in the crisp air of winter and to make a plunge pool for the kids in summer.